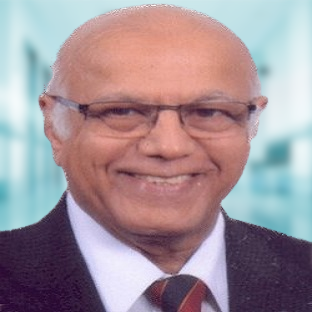 M.D.
FRCOG.
FACOG (Hon).
FACS
FICS
FICOG
FCPS
Gynec Vaginal Surgery
Particularly Hysterectomy
Gynaecology
Appointments / OPD Timings
| | | |
| --- | --- | --- |
| Tuesday | : | 04:00 PM - 06:00 PM |
| Friday | : | 04:00 PM - 06:00 PM |
President, International Federation of Gynaecology and Obstetrics (FIGO) (World Presidency), 2000-2003 (Encompasses 110 countries).
Past president, Bombay Obstetric and Gynaecological Society, The Federation of obstetric and Gynaecological Societies of India, College of Physicians and Surgeons of Bombay.
Had honour of operating at vaginal surgery workshops for practising Gynaecologists in LONDON (UK) 6 times, Malaysia and Egypt 2times each and China, South Africa, Singapore, Australia and Lithuania once each, plus several (35+) cities in India.
Received Fellowship – FRCOG, Royal college of Obstetrician and Gynaecologists (RCOG) Ad Eundem, London, UK, FACOG Honorary Fellowship of The American College of Obstetricians and Gynaecologists USA and also Canad (SOGC), Brazil (FEBRASGO); Chile (SCOG); Yogoslavia (YAGO) Nigeria (SOGON); Poland (PGS) and Australia (AGES).
Original research contributions to Ob-Gyn. Clinical practice : A surgical space between the bladder and cervico uterine surface – utero cervical broad ligament space 'Sheth's Space' The invention of the 'Adnexa clamp' (marketed as Sheth's Adnexa Clamp, Cooper Surgical, USA) The "Cervico Fundal Clinical sign" and 'Dimple' in lower abdomen, a clinical sign.
Vaginal removal of ovaries for breast cancer, broad ligament fibroid removal vaginally, broad ligament myomectomyvaginally at vaginal hysterectomy and designed a special Pneumo-Surgical pack for intraoperative packing abdominally and / or vaginally keeping away invading organs.
Have 364 presentations at Internal and National conferences. Scientific publications 180. International journals : 88 and National Journals 92. Have written and edited books: "Menorrhagia", "Vaginal Hysterectomy", "Advanced Vaginal Surgery" and "Best Practice and Research Clinical Obstetrics and Gynaecology".
Received lifetime achievement awards at the Conference of All India Obstetrics and Gynaecological Societies in 1999 and 2015 and Distinguished Appreciation Award in 2000.
First recipient of the Lion heart Award (USA) for outstanding contributions in the field of vaginal surgery by One Kilo Club (at Orlando, USA, International College of Surgeons Conference ), 2001 (nothing to do with Lion Club).
District Governor, Rotary International 1983-84 (Dist. 3140). As a Rotarian Gynaecologist, performed 10000+ Laparoscopic Sterilisations in rural camps as Community Service in Bulkly Maharashtra – Rural India between 1977 – 1984.
Rotary International Meritorious Service Award, 1986; Distinguished Service Award of the Rotary Foundation 1995; Highest Rotary Award – Service Above Self Award, 2002; and The Rotary Foundation Global Alumni Service to Humanity Award – 2010-11.