Contact Info
Ground Floor, Breach Candy Hospital Trust, 60-A, Bhulabhai Desai Road, Mumbai - 400026.
Health Checkup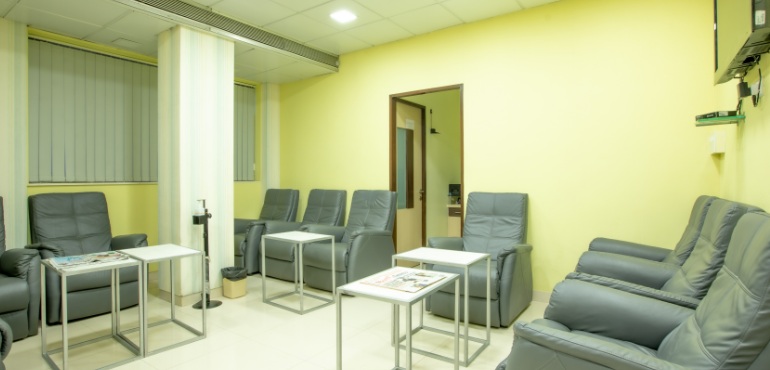 About Health Checkup
We go through life each day with our own set schedule and routine. When things falter and alter –we have an accident or fall sick – health care professionals help us recover.
But would it help if we can prevent sickness? That is what preventive health care is all about. As the name suggests preventing, protecting and promoting good health is the motto of the Health Check Department at the BCH.
Chronic and genetic diseases like diabetes, obesity and heart ailments need good periodic screening and that is why preventive health checks remain crucial.
Accidental pick up of early cancer is one of the best advantages of preventive medicine.
'The doctor of the future will give no medicine, but will instruct the patients in care of the human frame, in diet and in the cause and prevention of disease.' - (THOMAS EDISON).
HEALTH PLAN A : Comprehensive Medical Checkup
Physical Examination
ECG
X-ray Chest
USG of Abdomen & Pelvis
Echo/Stress Test
Lung Function Test
Pathology Lab Tests:
CBC
ESR
Lipid Profile
Liver Profile
Kidney Profile
PSA
Vitamin B12 Levels
Vitamin D3 Levels
Hepatitis B Surface - HbsAg
T3, T4, TSH
HbA1C
Blood Group
Blood Sugar Fasting & Post Prandial
Routine Urine
Routine Stool
HEALTH PLAN A+ : Comprehensive Medical Checkup For Women
Physical Examination
ECG
X-ray Chest
USG of Abdomen & Pelvis
Echo/Stress Test
Lung Function Test
Gynecological Examination
Pap smear
Mammography
Dexa BMD (Bone Densitometry)
Pathology Lab Tests:
CBC
ESR
Lipid Profile
Liver Profile
Kidney Profile
T3,T4,TSH
Vitamin B12 Levels
Vitamin D3 Levels
Hepatitis B Surface - HbsAg
HbA1C
Blood Group
Blood Sugar Fasting & Post Prandial
Routine Urine
Routine Stool
DELUX PACKAGE : For Men
Physical Examination
CT Coronary Angio
ECG
X-ray Chest
USG of Abdomen & Pelvis
Echo/Stress Test
Lung Function Test
Pathology Lab Tests:
CBC
ESR
Lipid Profile
Liver Profile
Kidney Profile
Vitamin B12 Levels
Vitamin D3 Levels
Hepatitis B Surface - HbsAg
T3, T4, TSH
HbA1C
Blood Group
Blood Sugar Fasting & Post Prandial
Routine Urine
Routine Stool
Male Cancer Markers:
DELUX PACKAGE : For Women
Physical Examination
CT Coronary Angio
ECG
X-ray Chest
USG of Abdomen & Pelvis
Echo/Stress Test
Lung Function Test
Gynecological Examination
Pap smear
Mammography
Dexa BMD (Bone Densitometry)
Pathology Lab Tests:
CBC
ESR
Lipid Profile
Liver Profile
Kidney Profile
Vitamin B12 Levels
Vitamin D3 Levels
T3, T4, TSH
HbA1C
Hepatitis B Surface - HbsAg
Blood Group
Blood Sugar Fasting & Post Prandial
Routine Urine
Routine Stool
Female Cancer Markers:

AFP
CEA
CA 125
CA 15.3
Beta HCG & CA - 19.9
HEALTH PLAN B : Executive Health Checkup
Physical Examination
ECG
X-ray Chest
Lung Function Test
Stress Test
Pathology Lab tests:
CBC
ESR
SMA 12 + 2 (14 Biochemistry tests)
Blood Group
Routine Urine
Routine Stool
Hepatitis B Surface - HbsAg
HEALTH PLAN C : Pre-Employment Medical Checkup
Physical Examination
ECG
X-ray Chest
Pathology Lab tests:
CBC
ESR
Blood Group
Blood Sugar Fasting & Post prandial
Serum Urea
Serum Creatinine
Serum Cholesterol
Routine Urine
Routine Stool
HEALTH PLAN D : Well Women's Package
DXA, BMD
Mammography
USG of Abdomen and Pelvis
Gynaec Examination
Pap Smear
Plan A Gents with Stress Test
Physical Examination
ECG
X-ray Chest
USG of Abdomen & Pelvis
2 D Echo
Lung Function Test
Stress Test
CBC
ESR
Lipid Profile
Liver Profile
Kidney Profile
PSA
Vit. B12
Vit. D3
T3, T4, TSH
HbA1C
Blood Group
FBS & PPBS
Urine Routine
Stool Routine
Hepatitis B Surface Antigen - HbsAg
Plan A+ Ladies with Stress Test
Physical Examination
ECG
X-ray Chest
USG of Abdomen & Pelvis
2 D Echo
Lung Function Test
Stress Test
CBC
ESR
Lipid Profile
Liver Profile
Kidney Profile
Mamography
Vit. B12
Vit. D3
T3, T4, TSH
HbA1C
Blood Group
FBS & PPBS
Urine Routine
Stool Routine
Hepatitis B Surface Antigen - HbsAg
Dexa BMD
Gynecological Examination
Pap smear
Compare Health Plans
| Compare Health Plans | | | | |
| --- | --- | --- | --- | --- |
| Price | N/A | N/A | N/A | N/A |
| PRICE Physical Examination | N/A | N/A | N/A | N/A |
| ECG | N/A | N/A | N/A | N/A |
| Pathology lab tests | N/A | N/A | N/A | N/A |
| CBC | N/A | N/A | N/A | N/A |
| ESR | N/A | N/A | N/A | N/A |
| LIPID PROFILE | N/A | N/A | N/A | N/A |
| KIDNEY PROFILE | N/A | N/A | N/A | N/A |
| LIVER PROFILE | N/A | N/A | N/A | N/A |
| PSA | N/A | N/A | N/A | N/A |
| VITMAIN B12 LEVELS | N/A | N/A | N/A | N/A |
| VITAMIN D3 LEVELS | N/A | N/A | N/A | N/A |
| BLOOD GROUP | N/A | N/A | N/A | N/A |
| BLOOD SUGAR FASTING AND POST PRANDIAL | N/A | N/A | N/A | N/A |
| ROUTINE URINE | N/A | N/A | N/A | N/A |
| ROUTINE STOOL | N/A | N/A | N/A | N/A |
| X-RAY CHEST | N/A | N/A | N/A | N/A |
| USG OF ABDOMEN AND PELVIS | N/A | N/A | N/A | N/A |
| 2D ECHO/STRESS TEST | N/A | N/A | N/A | N/A |
| LUNG FUNCTION TEST | N/A | N/A | N/A | N/A |
| GYNECOLOGICAL EXAMINATION | N/A | N/A | N/A | N/A |
| DENTAL CHECK-UP | N/A | N/A | N/A | N/A |
| PAP SMEAR | N/A | N/A | N/A | N/A |
| MAMMOGRAPHY | N/A | N/A | N/A | N/A |
| Others | N/A | N/A | N/A | N/A |