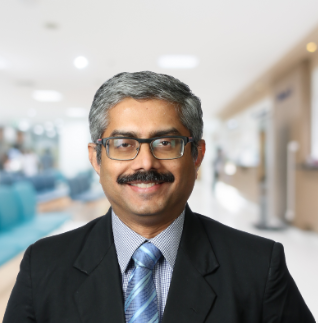 Medical Oncology, Hematologic Oncology, Palliative Care
MD, General Medicine
ABIM: American Board Certification in Internal Medicine
ABO: American Board Certification in Medical Oncology
ABHPM: American Board Certification in Hospice and Palliative Care Medicine)
MBA, Health Care
Lung Cancer
Breast Cancer
Head and Neck Cancer
Gastrointestinal Cancers
Cancer Symptom Control
Appointments / OPD Timings
| | | |
| --- | --- | --- |
| Tuesday | : | 03.30 PM - 05.30 PM |
| Wednesday | : | 03.30 PM - 05.30 PM |
23 years of experience practicing as a medical oncologist in the US and India.
Practiced as a medical oncologist at Hartford Hospital, Hartford HealthCare- a charter member of the Memorial Sloan Kettering Cancer Alliance.
Visiting Faculty at the Gray Cancer Center, Hartford Health Care, Hartford, CT.
Was a Clinical Assistant Professor of Medicine at the University of Connecticut, School of Medicine, Farmington, Connecticut, USA. Taught numerous post-doctoral fellows, residents, medical students. Delivered numerous talks on matters related to Cancer and Palliative care both in the US and India.
Was one of the first doctors in the US to be dually certified in Medical Oncology and Hospice and Palliative Care.
Was a practicing partner with Connecticut Multispecialty Group- Now Starling Physicians- the largest private practice group in the state of Connecticut.
Practiced as a Medical Oncologist in the Greater Hartford Area, Connecticut, USA for 17 years.
Menon V.M: A Profile of Chronic Pancreatitis. M.D.Thesis, Bombay University. January 1995.
Menon M: Methadone as an analgesic in terminally ill cancer patients in the 3rd world - An exploratory study. Capstone project MBA- Alvernia college, Reading PA 2007.
Menon M: Developing Health care Solutions for Microfinance institutions- Humanitarian project MBA- Alvernia college, Reading PA. 2007.
Tobacco and Society- The complex role of media; MBA Communications project, Alvernia University, Reading PA 2006.
Menon M, Hahn T, Paplham P, McCarthy P: Antifungal Prophylaxis (AFP) for the Prevention of Aspergillus or Mold Infections in Allogenic Bone Marrow Transplant (ABMT) Patients. Proceedings of the Annual society meeting ASCO 2001 65.
Kilbourne K., Aferzon J., Menon M.: Isolated Brain Metastasis in Cholangiocarcinoma- A case report and review of literature. Connecticut Medicine 78:3 2014 161-162.
Rustagi T, Rai M, Menon M: Ruptured Adenosquamous Cell Carcinoma of the Gallbladder Case Report and Review of Literature Gastrointestinal Cancer Research 4(1) 29-32 2011.
Menon M :Stealth Liposomes, Delivering Chemotherapy under cover. Cancer Therapeutics Update 6 (1) 64-67. 2000.
Joshi SR., Shah PS., Menon M: Tropical Pancreatitis in Western India. Diabetologia 40(1a 192): 751 1997.
Menon M. Joshi SR: Medical Management of Benign Prostatic Hypertrophy. Indian Practitioner 50(3) 240-243, 1997.
Joshi SR., Shinde SM., Shah PS., Menon M: Profile of H. Pylori Infection in Upper GI symptoms in Mumbai. Indian Practitioner 50(2) 101-118.
Joshi SR. Menon M: NSAID Gastropathy. Medical Pulse 4(5) 59-60.
Menon V.M., Joshi S.R: Cerebral Malaria: A Clinical Profile. Proceedings of the Annual Research Society Meeting of Grant Medical College.January 1993.
Menon V.M: Travel & Diabetes: Diabetes Today. May 1993.28-31.
Consistently featured among Greater Hartford's Best Doctors (USA) as selected by the Hartford Magazine as well as by Bestdoctors.com which is a prestigious peer reviewed group of physicians in the US in the years 2010 to 2017.
Also chosen consistently as a Top Doctor by Outlook, India Today and several other publications in India as well.
Member, American Society of Clinical Oncology over 20 years.
American Medical Association Physician Recognition Awards 1998, 2001.
J.N.Tata Endowment Scholar 1995.